We Will Never Forget!!!!!!!!
Check out this "FREE" event on 5 October for all active and retired military at Carroll Arts Center featuring the untold story of women soldiers side by side
with Special Operations teams in Afghanistan!!!
An Evening with Gayle Tzemach Lemmon
10/05/2015 07:30 PM ET
Carroll Arts Center
91 W. Main Street
Westminster, MD 21157
Admission: $20.00
Click here to register online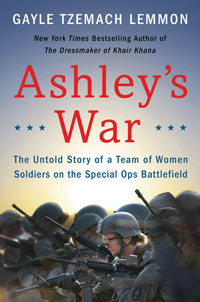 CCPL in partnership with HarperCollins Publishers & McDaniel College invite you to
An Evening with Gayle Tzemach Lemmon
Author of Ashley's War: The Untold Story of a Team of Women Soldiers on the Special Ops Battlefield
$20 includes copy of Ashley's War
Thank you to all who serve! All active and retired military with ID will receive free admission the day of the event. 
A Celebrating America Program. 
In 2010, the U.S. Army Special Operations Command created Cultural Support Teams, a pilot program to put women on the battlefield alongside Army Rangers, Green Berets, Navy SEALs, and other special operations teams on sensitive missions in Afghanistan. The idea was that women could access places and people that had remained out of reach and could build relationships—woman to woman—in ways that male soldiers in a conservative, traditional country could not. Lemmon uses exhaustive firsthand reporting and a finely tuned understanding of the complexities of war to tell the story of CST–2, a unit of women handpicked from across the Army, and of the remarkable hero at its heart: First Lieutenant Ashley White.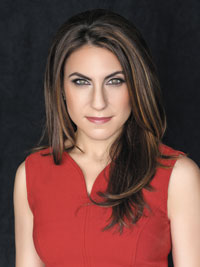 Gayle Tzemach Lemmon is a senior fellow at the Council on Foreign Relations and the author of The Dressmaker of Khair Khana, a New York Times bestseller about a young entrepreneur who supported her community under the Taliban.
From 1997 to 2004, Lemmon covered presidential politics and public policy issues for ABC News. She received an MBA from Harvard University.  In 2010, she was featured on the cover of the Harvard Business School alumni magazine for her work on entrepreneurs in conflict and post conflict zones.  She graduated summa cum laude from the University of Missouri with a bachelor's degree in journalism and served as a Fulbright scholar in Spain and a Robert Bosch Foundation fellow in Germany.
Lemmon has reported on Afghanistan since 2005. She has written about the country's politics and economy, the evolving roles of Afghan women, and young entrepreneurs. Her work has appeared in the The New York Times, The Financial Times, Fast Company, The Christian Science Monitor, and Newsweek's The Daily Beast.  In 2011, she gave the opening talk at TEDxWomen, which focused on why investing in women can make the difference for the global economy. Lemmon regularly appears on PBS, MSNBC, CNN, and National Public Radio, to discuss foreign policy issues.
Our Upcoming Calendar of Events is Spectacular!

Please Join Us For the Following Events!!!
October 3 — Post and Auxiliary Hoedown in pavilion

6pm

until…


October 9-11 — Air Show at Carroll County Regional Airport


October 24 — Auxiliary Children's Halloween Party

1 – 3 pm

October 31 — Auxiliary Halloween Dance,

8pm – Midnight

November 7 —   Gun Raffle and Dinner 5 pm –

8 pm

, Tickets $25.00 per ticket

November 11 — Veterans Day

Open House,

Noon to 2 pm

; free food and soft drinks

November 26 — Thanksgiving, open at

5 pm to 11 pm

December 19 — Children's Christmas Party

9 am – 11 am

December 19 — Post Christmas Party $5.00 per person limited to member and 1 guest,

2 – 5pm

December 24 —  Post opens

10 am – 6pm

, Dining Room Closed

December 25 — Post Closed

December 31 — New Year's Eve —

8 pm – 1 am

— DJ in Lounge and bring a covered dish

January 1, 2016, Dining Room Closed, Post open

4pm

– Close

20 Week Club (

January 30, 2016

4-7 pm

and start 2nd 20 week club

January 30

and ending

June 11th

) 275

February 7, 2016 —  Super Bowl Party, Tickets $160.00 per,

5-8 pm

Food,

8pm

until end of game light snacks
Post 467 wins VFW Maryland District 7 2014-2015 Awards!
Post 467 won numerous awards during the recent Convention!  Post Commander, Tom Shaffer,  thanks everyone for their support with these projects. 

(Please

click on the links below to see the awards

.)
Award – 3rd Place Outstanding Blood & PHMR Award – 3rd Place for Youth Activites Reporting Award – 3rd Place for Outstanding community Service Award – 3rd Place for Americanism Reporting Award – Voice of Democracy Award – Outstanding Voice of Democracy Program Activities Award – Outstanding Community Service Program Activities Award – Service Officer
If you have any recommendations/submissions for content please tell us using
the "Contact Us" Tab on this page.
VFW Post 467
519 Poole Rd, Westminster, MD 21157
(410) 848-9888